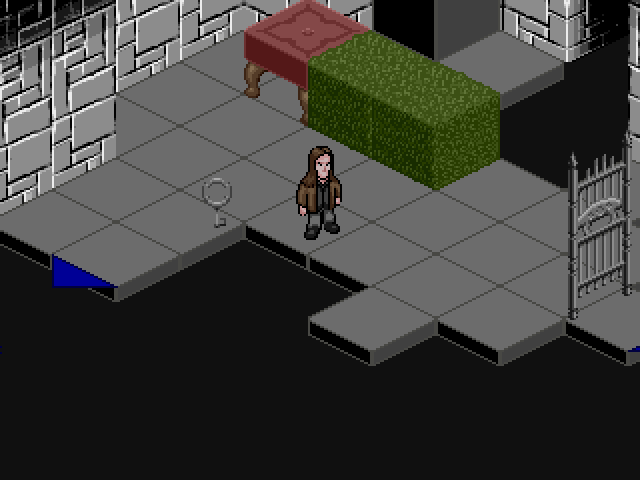 I spent most of the month working on reviving a game I started writing in 2004, called Demon of the Fall.
Demon of the Fall was a way for me to pay tribute to my favorite game, Solstice (and its sequel, Equinox, and related isometric puzzle-platformers like Head over Heels). It started as a straight-forward clone, but as Retsyn and I worked together on it, we came up with some uniquely appropriate gameplay elements. I won't say too much about that here, though, because I will probably be giving Demon of the Fall another shot later this year.
All I'll say is that music is central to Demon of the Fall. Because February is also the month of the RPM Challenge, I decided I could get rid of two albatrosses at once by recording the soundtrack as my album for RPM, and completing Demon of the Fall.
I started with the best of intentions, as we always do, and resolved to do a little work on it every day. However, the code was in an unusable state in the darcs repo I found, a casualty of a "refactoring" gone wrong.
Over the course of the year, we will examine more of these corpses, and in each case, the cause of death will be the same: refactoring without tests. I'm sure 2004-me could have given you countless justifications for making these changes without unit tests, but they were all wrong, as 2015-me gets to discover, again and again.
I'll talk about this more throughout the year in these #1GAM posts, but let me just relate this to what I got out of February:
Christer Kaitila talks about the wall as a reason games don't get finished. That's the point where it stops being the drug-like rush of implementing interesting stuff and becomes all about patience, discipline, and other dirty words you spend your early adult years trying to avoid.
I think that a lot of my projects had a cycle like this:
inspiration strikes: I hack out something in a frenzied night or weekend;
there's enough kindling that the fire burns while there are interesting problems to solve and clever algorithms to implement;
but the logs don't catch, and what remains to do is boring (which we dismiss as "too simple" to preserve our ego, though the truth is it's actually "hard but not fun");
time passes, and I wonder whatever happened to project X;
I jump in, but I realize the code is a complete hack, or I've learned a much better way to do some major structural thing, or my knowledge of whatever novel programming language I used has completely changed;
instead of proceeding cautiously (or better yet, just doing the hard-but-not-fun bits), I start cutting huge swathes through the code, breaking everything – "We had to destroy the code in order to save it".
Thankfully, at some point I turned around and saw the trail of dead projects stretching back for miles. Awareness was the first step; I also tried to improve not only my testing and refactoring habits, but also my version control habits (an area where DVCSes have helped a lot). Now I recognize when it's happening, and avoid the sunk cost fallacy that can accompany breaking changes ("I can't revert these commits, they were so much work!").
Anyway, it took a long time to not only undo some of that damage, but also to modernize the code and port it to Windows. Although I worked diligently, an hour or two a day was not enough. My kanban board was like a frozen river.
On February 22nd, I realized that, even if I could ignore all my other work (which I couldn't, since money pays for electricity and guitar strings), there was no way to get Demon of the Fall done by the end of the month.